Tammy Bryant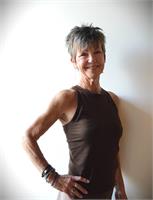 In 2009, Tammy took her first yoga class, beginning a life-changing journey. She frequented the gym daily and was an avid walker; however, after her very first yoga class, she never lifted another weight. She replaced her previous work-out routine with a dedicated yoga practice. She still enjoys taking daily walks to experience the world and its beauty. Each day, Tammy looks forward to sharing yoga with others.
Tammy Bryant instructs the following:
Our slow flow classes are especially good for beginners! Some say that simplicity is the ultimate sophistication, you will be guided through a gentle flow of foundational yoga postures to help you build strength and increase flexibility. Our teachers will give plenty of modifications and encourage the use of props to support the practice and those who have tight muscles and limited mobility. You will learn the principles of alignment, breath and movement, all while enjoying the peace and tranquilly that yoga brings!




Intermediate flow, combining basic and advanced poses and offering modifications. This is a well balanced class and great way to increase your heart rate, expand lung capacity, improve balance, strengthen core muscles and increase flexibility.