Dawn Boland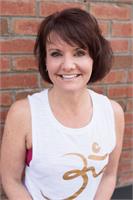 Dawn's yoga practice started when a fellow runner suggested that she check out yoga to help improve her run performance. Her initial reaction was, "Yea, like yoga will really help my run." Reluctantly, she tried yoga. She instantaneously fell in love with the practice. Not only did it help with her performance, but it was also an amazing work out that helped with mind, body, and soul. Her yoga practice became her escape from the stresses of life. Dawn decided to deepen her practice by completing her 200-hour teacher certification with Maria Lages and Johnna Smith at Om Yoga. She is also a holistic life coach and in the process of becoming a Mind, Body, and Fitness coach. When Dawn is not doing yoga, she loves to run, read, and spend time with family and her wonderful rescue dog, Zoie. She also loves everything that is nature and being outdoors.
Dawn Boland instructs the following:



Intermediate flow, combining basic and advanced poses and offering modifications. This is a well balanced class and great way to increase your heart rate, expand lung capacity, improve balance, strengthen core muscles and increase flexibility.