Sue Lydon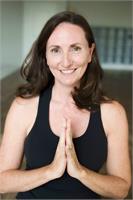 Sue practiced yoga for the first time while visiting San Miguel de Allende, Mexico, in 2000. It was this experience that truly sparked her love for yoga. Over the years, she has always found solace on her mat. In 2007, Sue started playing roller derby, finding her yoga breath work to be a great complement to this high endurance sport. Sue took her 200-hour Yoga Teacher Training at OM in 2016 with Johnna Smith and Maria Lages. Originally from Toronto, Sue has lived in 10 different cities across North America and the Caribbean. Traveling and interacting with so many cultures has opened her mind and heart. Sue is a Web Product Manager for a large technology company. She and her husband have two amazing girls who also love to bend and flow! Sue will forever be a student of yoga and she loves to share those teachings in the studio.
Sue Lydon instructs the following:
This is a very relaxing class. Restorative yoga poses will calm the mind, reduce stress and relieve anxiety. We will find stillness in poses that can be supported with props to stretch both muscles and ligaments- increasing your flexibility and range of motion. Perfect class for all levels, beginner friendly!




This class teaches children how to exercise their body with foundational yoga poses and relax their mind in a fun environment. By practicing various yoga poses and breathing techniques children's flexibility will increase along with their balance, posture, strength and stamina. This class is also designed to build on their existing social skills by gaining self confidence, being more considerate of others while learning to work together as a whole.