Erin Falls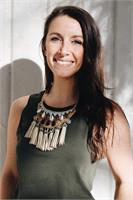 Erin earned her 200-hr certification with Jaimis Huff and Jennifer Busco. She teaches an upbeat and challenging flow that is fun and light-hearted. Erin believes in always including some type of spiritual element or closing thought for her students to take with them as they leave each class. Off the mat, Erin is a dietitian, blogger (Planks & Pizza), and personal chef. She feels incredibly lucky that her job combines all of her passions into one. She is beyond grateful to do what she loves and share it with others.
Erin Falls instructs the following:
This class is for all levels, but especially good for beginners. Some say that simplicity is the ultimate sophistication. You will be guided through a gentle flow of foundational yoga postures to help you build strength and increase flexibility. Learn the principles of alignment, breath and movement while enjoying the tranquilly that yoga brings.