Maggie Newton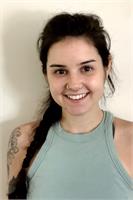 Maggie discovered yoga in 2012 while trying to transition into a healthy lifestyle. After attending her first vinyasa yoga class, she was hooked! Not only did yoga challenge her physically, but it encouraged her to turn inward and begin to grow into a more balanced and peaceful state of being. After years of practicing, Maggie decided to complete her 200 hour teaching training with Elizabeth Hoffman in 2016. She loves to teach classes that focus on strength, flexibility, and flowing through the asanas. She loves to challenge students to grow physically and spiritually in a comfortable and welcoming space. She is very passionate about natural healing through food, meditation, essential oils, and homeopathy.
Maggie Newton instructs the following:
Our $9 slow flow classes are especially good for beginners! You will be guided through a gentle flow of foundational yoga postures to help you build strength, and increase flexibility. This class offers modifications and we encourage the use of props to support your practice. You will learn the principles of alignment, breath and movement, all while enjoying the peace and tranquilly that yoga brings!