Stacy Thompson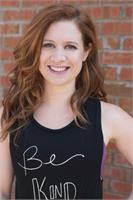 Stacy began practicing yoga in the summer of 2006, just a few days after graduating college. She began studying yoga at home with the help of books and DVDs, then attended her first studio class a few months later. Over the next few years, Stacy moved around a lot. However, her yoga practice remained a constant anchor. She practiced different styles of yoga all across the country. After moving to Charlotte, Stacy received her 200-hour RYT certification through Melody White and Greg Labarbera in May 2010 on her 26th birthday. Stacy teaches Samdaana Yoga (developed by Melody White) as well as vinyasa classes, allowing her to develop and share her own sequences, which she is particularly passionate about. She shares, "Yoga gives you back what you put in and more, but the benefits can take time to manifest themselves, and often in ways you hadn't even imagined. Sometimes you have to surrender a little to truly receive. This is why I know I'll practice yoga for the rest of my life." When she's not doing yoga, Stacy enjoys cooking and exploring the Charlotte food scene (she is a trained chef), reading, writing, running, traveling, music, and looking for reasons to laugh.
Stacy Thompson instructs the following:
Intermediate flow, combining basic and advanced poses and offering modifications. This is a well balanced class and great way to increase your heart rate, expand lung capacity, improve balance, strengthen core muscles and increase flexibility.




This is the perfect class for students new to yoga. You can use this class as a springboard to our more active power yoga classes or stay with this style if you prefer a more gentle approach to yoga. In this class you will improve your overall mobility and build strength as you move through simple transitions. This class is for everyone and specifically catered to beginners, students of all ages and sizes with limitations that might limit their ability to participate in high intensity/weight bearing exercise and active seniors.