Tammy Bryant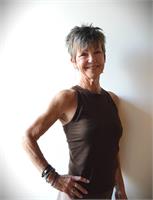 In 2009, Tammy took her first yoga class, beginning a life-changing journey. She frequented the gym daily and was an avid walker; however, after her very first yoga class, she never lifted another weight. She replaced her previous work-out routine with a dedicated yoga practice. She still enjoys taking daily walks to experience the world and its beauty. Each day, Tammy looks forward to sharing yoga with others.
Tammy Bryant instructs the following:
Energize your body and soul with this invigorating $9 power class, all levels welcome! Class is heated to 78 degrees. You will flow through basic and advanced poses, given modifications if you are a beginner. This well balanced class will increase your heart rate, improve your balance + flexibility, and strengthen your core!




Intermediate flow, combining basic and advanced poses and offering modifications. This is a well balanced class and great way to increase your heart rate, expand lung capacity, improve balance, strengthen core muscles and increase flexibility.