Allyson Rooney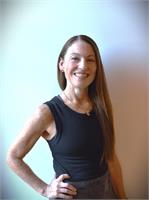 I have been practicing yoga for over 12 years. Growing up as a gymnast, I was naturally drawn to the Asana practice. I have always been fascinated by and in awe of what the body is capable of doing. The possibilities are endless! As a physical therapist for over 25 years, I continue to utilize this same passion for movement, alignment, breath, strength, and balance, not only in rehabilitating patients but also in the role of preventing injuries, managing chronic conditions and ultimately maximizing functional mobility and strength.
I received my 200 hour Power Vinyasa Yoga Teacher training through Ayana Yoga in 2014.
And completed Charlotte's first 50 hour Rocket Vinyasa Training in May 2018 led by Patrick McLeaf and assisted by Jaimis Huff. I am so grateful for the amazing teachers who continue to instruct, encourage, support and push me. I feel physically stronger now than 5 years ago. Who says you can't get stronger with age? I love this physical practice but I now see what my yoga teachers have been saying all along.. "As you continue to consistently practice yoga on your mat, you start to see how it transforms your life "off the mat". The pranayama, the yamas, niyamas, etc. Basically, everything that makes you a good human being. These teachings are powerful and have been an incredible tool in raising my 2 daughters.
Allyson Rooney instructs the following:
An intermediate flow of poses designed to detoxify the body with a heat building series and emphasis on twists and forward folds. It's hot, be prepared to sweat!




Intermediate flow, combining basic and advanced poses and offering modifications. This is a well balanced class and great way to increase your heart rate, expand lung capacity, improve balance, strengthen core muscles and increase flexibility.




This is an intermediate class that will give you lots of opportunities to experiment with core building arm balances and inversions, allowing you to be playful as you gain strength and flexibility! Created by Larry Schultz, Rocket yoga is a series of postures based on a modification of the traditional Ashtanga Vinyasa Yoga primary and intermediate series.