Michelle Miller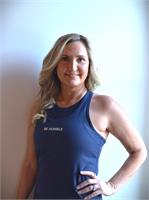 Born in Canada, Michelle's love for movement and exercise began at a young age in professional dance. She started practicing yoga in 1998 in LA. Michelle's passion is to connect with people. She lives to share her knowledge and experiences to help those on their path of self-discovery and personal growth. She successfully completed her 200-hour yoga teacher training program in May 2015, led by Johnna Smith and Maria Lages. She is grateful for her wonderful husband and 2 beautiful children who fill her heart with love. I believe in the benefits of hot vinyasa and power yoga to increase strength, flexibility, stamina and the possibilities within the physical body while exploring the power of breath and the mind. I recently finished a 100 hour Rocket Yoga certification with Patrick McCleaf and Jaimis Huff Flynn. I love teaching this style because it makes advanced postures accessible to everyone. Rocket is very energetic, and allows you to play with fun arm balances, and gets you used being upside down!
Michelle Miller instructs the following:
This is an intermediate class that will give you lots of opportunities to experiment with core building arm balances and inversions, allowing you to be playful as you gain strength and flexibility! Created by Larry Schultz, Rocket yoga is a series of postures based on a modification of the traditional Ashtanga Vinyasa Yoga primary and intermediate series.




An intermediate flow of poses designed to detoxify the body with a heat building series and emphasis on twists and forward folds. It's hot, be prepared to sweat!