Amanda Taylor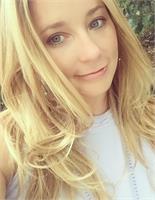 Since beginning her yoga practice in 2011, everything in Amanda's life has changed. She has navigated some of the most difficult and wonderful passages of life: grief, joy, beginnings, and endings, through the sweat and transformation found on her yoga mat. Amanda believes that yoga allows her to be the best version of herself. She finds that her personal yoga practice is her foundation, and the place that she draws strength from physically, mentally, and spiritually. Amanda is the mother to four amazing daughters, a writer and blogger, a widow, a philanthropist, and a non-profit fire-starter. She believes that yoga and adventure heal like nothing else, and she has worked with veterans with PTSD, inner-city youth, children, and other special population groups. Amanda travels the world with her girls and writes about their adventures to inspire other single moms to live their best, most authentic lives every day. Amanda completed her RYT-200 teacher training in May of 2013 with her mentor and friend Johnna Smith and Tanner Bazemore at Y2 Yoga in Charlotte, NC. She has BA degrees in English and psychology, and is currently working on her MFA in creative non-fiction writing at Queens University. She is also a reiki master and enjoys incorporating healing touch into her yoga classes. Amanda is passionate about teaching kid's yoga, deep stretch, and traditional vinyasa flow classes. Being able to share her love of yoga with her students is an incredible source of joy and inspiration in Amanda's life. She hopes to see you on your mat soon.
Amanda Taylor instructs the following:
This very relaxing class is perfect for all levels and is beginner friendly! In Deep Stretch we find stillness in poses that can be supported with props to stretch both muscles and ligaments- increasing your flexibility and range of motion. These Restorative yoga poses will calm the mind, reduce stress and relieve anxiety. You will leave class with a peaceful attitude and limber muscles.