Pam Johnson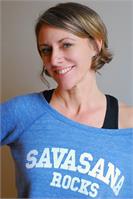 Pam is an RYT-200 (certified in 2013) and a Certified Reiki Practitioner / Energy Healer who has been practicing yoga since 2000. Her true passion is helping others find relief from suffering so that they may fully experience joy in all its forms. Yoga provided deep peace and acceptance during a time of severe depression when she first began practicing, and has since then continued to offer her an opportunity to practice mindful and present living daily. Her attention to the details of alignment in the poses provides a strong practice base for her students, especially those who have dealt with injuries in the past. Pam lives in Fort Mill with her youngest daughter Taylor, in a 216 square foot "tiny house" and is loving the minimalist lifestyle!
Pam Johnson instructs the following:
Our slow flow classes are especially good for beginners! Some say that simplicity is the ultimate sophistication. You will be guided through a gentle flow of foundational yoga postures to help you build strength and increase flexibility. Our teachers will give plenty of modifications s and encourage the use of props to support the practice and those who have tight muscles and limited mobility. You will learn the principles of alignment, breath and movement -- while enjoying the peace and tranquilly that yoga brings!




Energize your body and soul with this invigorating $9 power class, all levels welcome! Class is heated to 78 degrees. You will flow through basic and advanced poses, given modifications if you are a beginner. This well balanced class will increase your heart rate, improve your balance + flexibility, and strengthen your core!




Congratulations! If you are taking this class, you are either expecting or you have a new baby! This is a lovely way to connect with your growing belly (or baby), prepare yourself for labor, recover from childbirth, and bond with other new mamas. The gentle flow is designed to help you improve circulation, ease digestion, boost energy, relieve muscle tension, maintain a healthy spine, and strengthen your core, uterine, and pelvic muscles. You will find ease, relaxation, and cultivate more energy during a time that can feel chaotic and overwhelming. We encourage new moms to bring babies to class, as long as they not crawling. Our instructor can show you how to safely wear your baby while practicing, or just incorporate his/her presence into your practice.




Intermediate flow, combining basic and advanced poses and offering modifications. This is a well balanced class and great way to increase your heart rate, expand lung capacity, improve balance, strengthen core muscles and increase flexibility.




This very relaxing class is perfect for all levels and is beginner friendly! In Deep Stretch we find stillness in poses that can be supported with props to stretch both muscles and ligaments- increasing your flexibility and range of motion. These Restorative yoga poses will calm the mind, reduce stress and relieve anxiety. You will leave class with a peaceful attitude and limber muscles.