Rodolfo Tandazo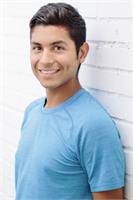 Rodolfo discovered yoga in 2014 while training with the Miami City Ballet School and continued his yoga practice while dancing professionally with Ballet Austin. Practicing yoga daily helped him cope with the constant stress and demands of being a ballet dancer. It has taught him how to embrace, trust, and send love to every part of himself. Rodolfo's teaching is inspired by the idea that each time we step onto our mats, we are choosing the practice of creating space to slow down, turn inward, reconnect and explore. He combines alignment and flow to empower students to grow in their practice, inviting fluid movements, strength and grace.
Rodolfo Tandazo instructs the following:
Our slow flow classes are especially good for beginners! Some say that simplicity is the ultimate sophistication. You will be guided through a gentle flow of foundational yoga postures to help you build strength and increase flexibility. Our teachers will give plenty of modifications s and encourage the use of props to support the practice and those who have tight muscles and limited mobility. You will learn the principles of alignment, breath and movement -- while enjoying the peace and tranquilly that yoga brings!




Intermediate flow, combining basic and advanced poses and offering modifications. This is a well balanced class and great way to increase your heart rate, expand lung capacity, improve balance, strengthen core muscles and increase flexibility.