Amanda Henson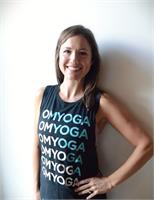 Amanda is a Fort Mill native who found her love of yoga in 2012 right here at Om Yoga. In May 2018 she will complete her 200-hour training through Enlighten Yoga in Charlotte, NC and is excited to bring the joy and peace of the yoga lifestyle to the community around her. Amanda says, "This is the one exercise that affects me physically, mentally and even spiritually. I love that I can show up on my mat and some days I may feel like a rock star and others I just need to keep coming back to child's pose. I'm a very competitive person but in my yoga practice I am not. I value that we're all different, at different stages of our lives or fitness levels, and we're just built differently. So my mat is very personal to me and I love how each person has their own way of carrying out the shape of the poses." Amanda credits her prenatal yoga classes to the reason why she wanted to do more and more yoga. It helped her body the most when it was going through massive changes and the breathing really helped during labor. Amanda and her husband have a beautiful daughter named Madeline and are expecting their second baby girl in August!
Amanda Henson instructs the following:
Our slow flow classes are especially good for beginners! Some say that simplicity is the ultimate sophistication. You will be guided through a gentle flow of foundational yoga postures to help you build strength and increase flexibility. Our teachers will give plenty of modifications s and encourage the use of props to support the practice and those who have tight muscles and limited mobility. You will learn the principles of alignment, breath and movement -- while enjoying the peace and tranquilly that yoga brings!