Christine Rosati-Dalton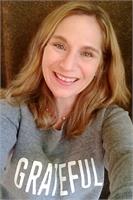 Christine has been practicing yoga since 1997. She has been attending classes at Om yoga since moving to the area in 2013. She completed her teacher training 200 Hour Program at Asheville Yoga Center in 2017.
Christine is a RN, and has her master's degree in nursing education. She has worked as a maternity nurse, nurse manager for a hospital patient education department and a nursing professor at various colleges. She is committed to health and wellness and believes in the power of the mind/body/spirit connection. When she is not doing yoga, you can find her driving her 3 teenage kids around town. She also enjoys scrapbooking, reading, bible study, and organizing.
Christine Rosati-Dalton instructs the following:
Congratulations! If you are taking this class, you are either expecting or you have a new baby! This is a lovely way to connect with your growing belly (or baby), prepare yourself for labor, recover from childbirth, and bond with other new mamas. The gentle flow is designed to help you improve circulation, ease digestion, boost energy, relieve muscle tension, maintain a healthy spine, and strengthen your core, uterine, and pelvic muscles. You will find ease, relaxation, and cultivate more energy during a time that can feel chaotic and overwhelming. We encourage new moms to bring babies to class, as long as they not crawling. Our instructor can show you how to safely wear your baby while practicing, or just incorporate his/her presence into your practice.