Jackie Dominas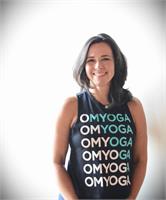 Jackie Dominas is a yoga teacher and life coach passionate about helping others get out of their heads, into their bodies and more connected to their inner guidance so they can stop feeling tired, overwhelmed and off balance. She has over 1,000+ hours of teacher training with one of the founders of power yoga, Bryan Kest, studied alignment, sequencing and the art of vinyasa at Yogaview in Chicago. She continues to study with senior teachers like Jason Crandell and Stephanie Snyder in addition to her daily practice.
She is in awe of the healing power of yoga and has a gift for inspiring others on their path of personal growth and healing. She teaches with compassion, appreciation, and respect for each student and encourages them to practice in a light-hearted, strong yet easeful way.
Jackie is a mama to a young son and enjoys geeking out about the moon, motherhood and the gifts of being a woman. In addition to teaching yoga, she writes a weekly blog, leads Wise Woman programs, and hosts retreats and workshops.
Jackie Dominas instructs the following:
This is a fun, heat building, invigorating yoga practice for intermediate and advanced students! You will be encouraged to explore inversions, arm balances, and play with the boundaries of your current limitations. Temperature: 80 degrees.




Congratulations! If you are taking this class, you are either expecting or you have a new baby! This is a lovely way to connect with your growing belly (or baby), prepare yourself for labor, recover from childbirth, and bond with other new mamas. The gentle flow is designed to help you improve circulation, ease digestion, boost energy, relieve muscle tension, maintain a healthy spine, and strengthen your core, uterine, and pelvic muscles. You will find ease, relaxation, and cultivate more energy during a time that can feel chaotic and overwhelming. We encourage new moms to bring babies to class, as long as they not crawling. Our instructor can show you how to safely wear your baby while practicing, or just incorporate his/her presence into your practice.